Wedding trends 2022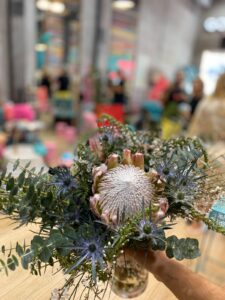 The thing I love the most about weddings is how couples reinvent such a traditional and ancient celebration year after year. And I know 2022 will not be the exception because it is planned to be the year of weddings. After two years of intimate celebrations and elopements due to gathering restrictions, we see the light at the end of the tunnel, so if you just got engaged or you have been waiting for months to tie the knot, I give you the biggest wedding trends for 2022.
Tented weddings
Outdoor weddings are simply magical, and if you add a beautiful background to the mix, you have got yourself an unforgettable event. Imagine walking into a large white tent, with a romantic entrance marked by a floral arrangement and delicate fabric; as you step in, you see festoon lights all over the ceiling, the bar at one end, and all the reception tables along with the tent with a beautiful combination of low and high centerpieces, perhaps some candles, and of course a dancefloor in front of the DJ or band.
Possibilities are endless when you have a blank canvas such as a tent in a beautiful outdoor setting; you can play with colors, lighting, and themes. Perhaps you want to go with a classic and timeless vibe or make it minimalist and modern, and how about an English garden-inspired celebration? Plus, you have the option to keep the sides open for fresh air to come in or close it to avoid wind bothering your guests.
Floral installations
This is not a new trend but one we will continue to see during 2022 and on a larger scale than ever. Inspiration for this concept comes from lush gardens, and it is adaptable to any color scheme and season of the year. From a fresh hanging installation in the middle of your reception venue to a grand entrance for your ceremony, filling every space with blooms. Hanging installations are also replacing centerpieces and giving tables an edgy look.
Making new traditions
If there is something we have learned over the last two years is our moments shared with loved ones are priceless, so couples want to make the most out of their wedding day, and this could mean ditching some old traditions that they don't feel identified with. A clear example is the bouquet and garter toss, which take a considerable time from your reception and might be unnecessary.
But ditching old traditions paves the way for new ones, such as brides walking down the aisle themselves or with their moms, brides, and grooms speaking on the reception equally, no bridal party or uneven numbers, and even getting ready together and skipping the first look.
Weekend long weddings
Why limit your wedding fun to a single day? All those months of wedding planning should last a whole week, but if that is a bit too much, you can consider a weekend-long wedding with multiple events to share such a big moment in life with your loved ones. Starting with a rehearsal dinner or ice breaker with both families and the bridal party, we can find an unbeatable venue in Miami for that purpose. Next comes the main event, your ceremony, and reception, but as you are about to find out, this long-waited moment will be over in the blink of an eye so you can extend the experience for an extra day and have a brunch with them the next day.
As you can see by now, wedding trends for 2022 have much to do with providing experiences to your guests, transporting them to a whole different setting with a tented wedding, a floral installation, or a relaxed environment that feels like a mini-vacation. I'm certain your Miami wedding will be unforgettable if you manage to incorporate some of these trends into your big day.